Primary and Sustainable Extraction of Resources
Description:
The primary extraction of raw materials represents a cornerstone in the modern Circular Economy as the recent recycling rates, and the growth and development of industry and life require more raw materials than available in the circle. Modern Mining operations support global sustainable development as a contribution to the economy with low environmental impacts, added value for the community by extracting the resources efficiently on the highest safety standard. The course gives an introduction with sixteen units combining the basics of underground mining operations with sustainable mine planning.
Learning Objectives:
After the successful completion of the module, participants are able to
characterize mining situations by identifying their challenges based on the pillars of sustainable mine practice.
assess and develop solutions for simplified tasks in underground mining by using the main mining and excavation methods as well as the elements in access and development.
differentiate goals and measures of the mining activity and select the fitting ones by distinguishing different stages in Mining operations and related uses of underground facilities.
discuss upcoming challenges of future mining by using the presented approaches.
understand technical talks express their approaches and findings by using the specific technical language.
These competencies are important for the participants to interact with the technical professionals in the field of primary raw material extraction and make management decisions to foster a sustainable mine practice.
To gain those competencies the students set the base during the semester in a self-directed interactive online course based on screencasts, and interactive content that is preparing an interactive workshop where deepening tasks are solved and the future of mining is discussed.

This certificate course can be credited to the master program "Intercultural Leadership and Technology".
For further information on course fees and registration, please see the attached form.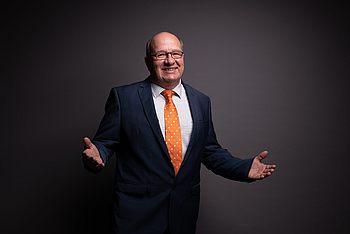 Prof. Dr.-Ing. Oliver Langefeld
Angela Binder, M.Sc.